Pioneers of
private hammams
Les Bains de Marrakech opened its doors in 2002 in the Kasbah district of Bab Agnaou. It was the first spa to offer double massage cabins and duo baths before this revolutionary idea started to be used all over the world. It is a comfort for our clients to be able to enjoy their treatments individually or as a couple or with family or friends, in a soothing and intimate atmosphere.

Bathrobe and towels are always at your disposal.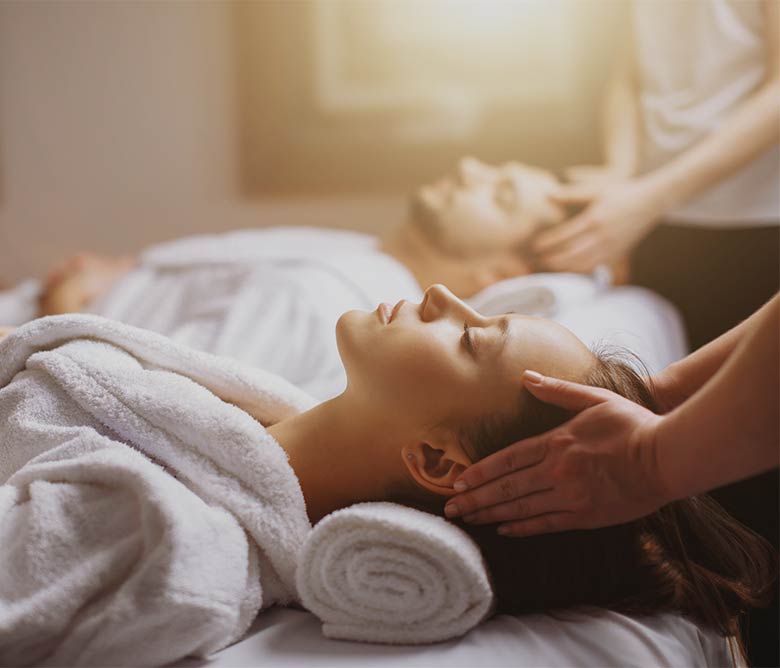 Open the doors
to well-being
In the heart of the city, discover an oasis of tranquillity and immerse yourself in a place of rest and relaxation.

Our Spa area of more than 2000m2 is composed, among other things, of an outdoor swimming pool, multiple hammam rooms, individual and double massage rooms, a duo bathroom and more. Your experience continues in one of the 4 relaxing rooms, enjoying a traditional mint tea along with some homemade pastries.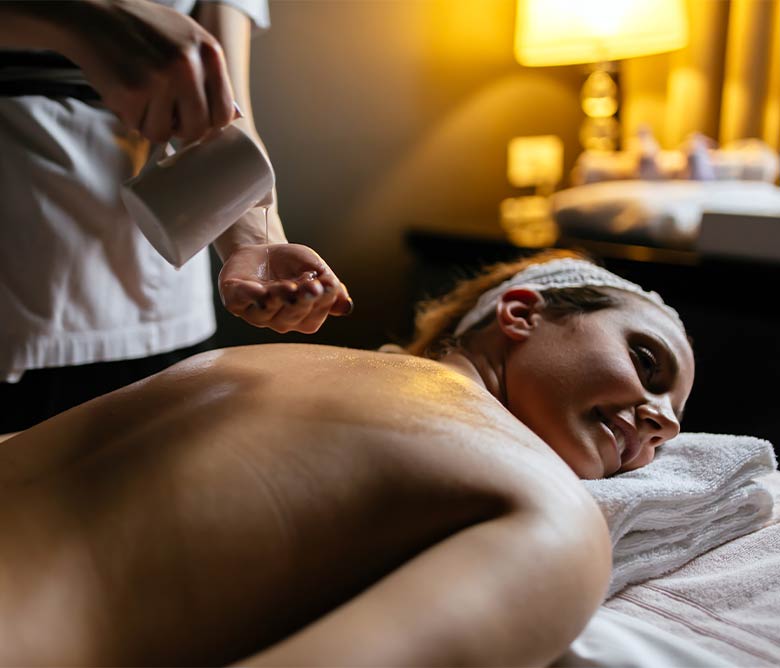 Cosmetic skincare products
of a natural origin
Discover our selection of cosmetic spa products made out of local Moroccan ingredients. Because of a primary concern towards authenticity, our products' natural origin and effectiveness have gone through constant quality and dermatological tests.

Naturally and professionally ressourced, they are also fully free of parabens, artificial colors, synthetic fragrance, sulfate, GMO, and animal testing.
*Available for sale at our centers
Hammams
The Traditional Relaxant
Beldi soap scrub using Kessa's glove
and Ghassoul mask with plants
---
The Detox
Beldi soap body scrub using Kessa's glove
and a wrap of algues
---
The Purifying
Citrus sea salt crystals body scrub
and lemon clay mask
---
The Moisturizer
Body scrub with sugar, beeswax, sesame, apricot
and rose clay mask
---
The Stimulant
Crystal sea salt body scrub of 3 teas
and mint clay mask
Mud baths
The Relaxant
Enveloping ritual of eucalyptus clay
---
The Tonic
Enveloping ritual of eucalyptus clay
---
The Detoxifier
Enveloping clay ritual with seaweeds
Baths
The Relaxant
1 hour bath with bitter orange salts
and small Bigaradier seeds
---
The Tonic
1 hour of salt baths
and aromatic plants
---
The Detoxifier
1 hour of oriental baths
with seaweed salts
Facial treatments
The Purifying
1h of purifying treatment, astringent, anti-comedone treatment
and correction
---
The Tenderness
1h of treatment for delicate, sensitive skin
and anti-redness treatment
---
The Vitality
1h moisturizer
& dry skin care
---
The Lift-Eternal Youth
*
1h of an eternal youthful treatment:
regenerating and anti-aging
*MAD 100 extra charge
Massages
The Serenity
Moisturizing
1h of massage
---
The Intense
*
Stimulating
1h of massage
*MAD 100 extra charge
---
The Detox
Detoxifying
1h of massage
---
The Future Mom
Relaxing for pregnant women
1h of massage with natural oils
---
The M'SSID
*
Traditionally relaxing
1h massage with herbal pouches and hot oil
*MAD 100 extra charge
---
The Awakening of the senses
1h of massage, including:
30min plantar reflexology + 30min face and head
+212 524 38 14 28
contact@lesbainsdemarrakech.com
2 Derb Sedra, Bab Agnaou, Kasbah, Marrakech